These Retirees Won Big Playing Lottery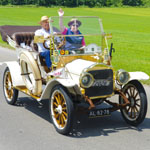 The story of three lotto players who struck it rich during their retirement years.
Lottery tickets are something that millions of people in the world purchase on a daily basis. All you have to do is guess the correct numbers that will show up at the draw, and that will pretty much do it. There have been a lot of lotto winner throughout history, but there are a couple that stand out from the rest due to the large amount that they have been awarded with and their story (below).
A Retired Senior Citizen Wins
Gloria Mackenzie, an 84-years-lady lady from Florida, was the winner of the $590.5 million jackpot in 2013. It became the biggest Powerball prize won by one person. Mackenzie chose to receive the award in a lump sum and after deduction of taxes, the total she received was $370.8 million dollars. She now has enough money for her medications!
Californian Retiree Claims Price After a Month
B. Raymond Buxton, a resident of northern California, waited more than a month in 2014 to go to the Lottery headquarters in Sacramento California to claim his $425 million dollar prize. The California retiree stated that he would utilize the winnings to finally travel and for charitable causes.
Former Truck Driver Wins Big
On March 7, 2007, a former truck driver from Georgia, Ed Nabo, decided to go buy a cup of coffee at a convenient store and before checking out, he decided to try his luck on a lottery ticket. To his surprise, he and another individual in the country hit the jackpot. This lucky winner did not even buy lottery tickets regularly, but this spontaneous decision earned him a cool $116,557.83.
Of course, these are just a couple of people of the many others who have tried their luck on lottery tickets and have received grand rewards for doing so. You can get lucky on your first try, but being consistent with your lottery ticket purchases seems to be the main key in order to win big someday.
"These Retirees Won Big Playing Lottery" User Comments
No comments posted yet.