Lottery Syndicates Explained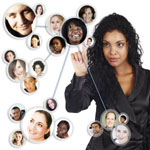 What are lottery syndicates and how do they work?
A syndicate is a group of individuals, institutions or other entities created to carry out a particular business as they pursue a common goal. A lottery syndicate therefore refers to a group of people who gather and pay a certain amount of money which is used to buy their lottery tickets. Syndicates are made up of various categories of people, e.g., family members, work colleagues, neighbors, etc. All members of the syndicate must be lawfully eligible to participate in the lottery. If a syndicate member`s ticket wins the lottery, the money is shared equally among all members.
It`s important to consider the number of people a lottery syndicate has before joining it. The more the members, the less the amount of money the individual gets. When forming a syndicate, it`s important to put in place rules and regulations that should be followed by every member. These rules protect the players and ensure equity prevails. A manager is appointed to be in charge of the syndicate. An assistant manager should also be appointed to double check the numbers so as to prevent any disputes. The manager should be a person of integrity. The manager`s roles include:
- Implementing the syndicate`s agreement.
- Taking in each player`s funds.
- Buying tickets and keeping them safe.
- Following up all tickets to see if any has won.
- Dividing the winnings equally among players.
Joining a lottery syndicate increases an individual`s chances of winning. It also reduces the expenses that one should have spent if playing individually. Some lottery syndicates are run by reputable companies thus the player is relieved from administrative duties. Another benefit of joining a lottery syndicate is that the winnings are taken care of for you. Every member gets notified if a ticket wins. In case you misplace your ticket, there is no need to worry since the syndicate`s management has all the lotteries` information. Clearly, joining a lottery syndicate has more advantages than playing individually.
"Lottery Syndicates Explained" User Comments
No comments posted yet.